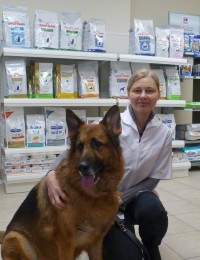 Dr. Agnes graduated from Wroclaw, Poland in 1997 with a degree in Veterinary Medicine. Since then, she has passed the rigorous equivalency tests and brought her degree to Canada.
She has worked at many small animal practices in both Poland and Canada– most notably Market Lane Animal Hospital, where she has worked for 10 years.
Dr. Agnes frequently attends veterinary conferences and continuing education seminars to stay up-to-date with the latest technology and procedures in medicine, surgery and pharmaceuticals to offer her patients the best medical care, as well as give the clients the most options to choose from.
Dr. Agnes has a shy but cuddly 10 year old cat named Lucy and a 6 year old German Shepard called Arko. In her free time, she enjoys reading, hiking and going to the opera.